Please note that the contents of this website are mine personally and do not reflect any position of the U.S. Government or the Peace Corps.
Today is my last day in Gori. Its been eleven weeks (or so) since I came to Georgia. In that time, I've co-taught classes, helped run a summer camp, visited cave cities (post pending), tried my feet at Georgian dance (just search YouTube for some amazing examples), and had more than three handfuls of language and technical skills crammed into my brain. Tomorrow, barring craziness, I get sworn in. So it is only fitting that I talk about the time and town some now that I have time available.
The rigors of PST are not as bad as many people make them out to be. When you read about horrific experiences that people have had in the Peace Corp, please try to remember both that these are the exception and that the media likes to sensationalize everything. This is not to say that everything is roses, and, frankly, it seems that PC Georgia definitely has its act together better than other posts I read about, but there will always be good and bad, the good just happens to outweigh it. Part of this comes from just having the right mind set, yes, you're on an adventure, but its not about what you experience on that adventure, its about what you do and the lives you touch.
Learning the language has been rough. I seem to be maybe middle ground with it among the G15 class, if I'm lucky. Of course, it helps if people talk slow and use small words ;)
Technical sessions on how to teach classes also proved good, but the lessons didn't fall into place until we did our practicum (working with local teachers to get some hands on experience co-teaching) and ran our short summer camp. The practical experience proved exceedingly useful, both when we were performing and observing each other.
Many of us bemoaned the level of security, how we couldn't venture outside our communities without filing prior paperwork or how we had to memorize certain safety and security phrases (which I'm pretty sure weren't actually memorized by most). Its easier to be overly restrictive at the beginning and then cut back though than to be lenient and then become more strict. I don't mind it too much myself, but then, I'm in Gori, and there's more resources here.
That said, I think I missed out some by not being assigned to a village. Where pretty much everyone I have run into has been amazingly hospitable and warm to strangers, such as myself, in the city there is a distance. People just aren't as approachable. Conversely, in a village or a smaller town, like my permanent site, you can barely walk twenty meters before attracting a crowd of people who want to talk, and most people wave "hi" and asks how you are doing. Speaking of the city, lets talk about it a little.
Gori
Let's start with the obvious. Gori is the birth place of Stalin. There's a museum to him right next to the house he grew up in. His train car is also right next to the museum. It is a fascinating visit, even if I couldn't read much inside. Despite the anti-Soviet and anti-Russian sentiments, many people here still like Stalin.
Another obvious feature of Gori is the Castle. The way it stands above the town on its own little hill it is easy to imagine how it would have loomed protectively over the city. There isn't very much left of it, and I am given to understand that a restoration project was put on hold due to lack of funding, but one interesting feature is the chapel. It is still there, but to get to it you have to climb down a fairly treacherous route. At the bottom, you will find the small chapel, and people still leave icons and offerings there.
At the base of the castle's hill is a small collection of statues. These knights all exhibit grievous wounds. Some are missing limbs. Other have great gouges taken from them. This is a memorial to the wounded and fallen during Russia's incursion in 2008 when South Ossetia broke away.
The center of Gori is dominated by town hall. My host aunt/sister says it was built my German prisoners in the wake of World War II. There is also a university, a park, a military base on the outskirts, a hospital, and several stores. They hold concerts and drift demonstrations. In short, its not unlike most cities, honoring its history and building a new future, except maybe one thing.
I think I mentioned it before, but it still amazes me how nearly every street is lined with plants, not just trees (fruit tress mind you, not just maple or fir). Yes, the trees are nice, but the grapevines forming canopies overhead and even the occasional road side rose bush gives Gori a charm not often seen in the states.
To close out Gori, in a conversation between a couple of American attorneys, one looked at the open gutters, fast driving, lack of warning signs/labels, etc. and summarized Gori as a city of personal responsibility. The other claimed they just didn't have a robust enough tort system yet. I'll let you guess which one I was.
Living Conditions
On the general topic of living conditions in Georgia, I was asked what the quality of living was like here. I haven't seen everything in the country yet, and I'm not sure if I'll be able to in the two years I have, but I can offer some pretty basic insight. The short version is to imagine America 30-50 years ago and you get a decent idea.
On the whole things are pretty good. Most homes that I have observed are well kept and well loved on the inside (seriously, I thought I stepped into my grandmother's house when I first arrived); though, they may not always look it from the outside. Building construction is mostly concrete and re-bar, but they lack HVAC or similar ventilation. This means that cooling is done by opening doors and windows. It also means that in the winter I may be very glad for a solid sleeping bag.
People have "stuff" here the same as America, but its not the level of consumerism you see stateside. The stuff people have, they use. For instance, my Gori host family actually uses their nice tableware when there are guests or for events. Back home, we might use it once or twice a year.
Where you can buy your food at the store, same as in the US (except for a few ingredients), people grow or make quite a bit themselves. For instance, my Gori host family has a house and vineyard in a village. One Sunday, while I was prepping to cook dinner, they brought back buckets of cherries and berries, which are being turned into jam and juice (reminds me of when I was a kid). Speaking of that dinner, canned crushed tomatoes? Nope, cut up the fresh ones yourself! So certain conveniences aren't readily available in terms of food, but you can easily make do if you put in some extra time.
This doesn't mean everything is all roses. Unemployment is a big problem. This stems from the collapse of the USSR and its top down structure. The USSR essentially wanted worker drones. It assigned you a role and gave you what food, clothing, housing, etc. it deemed appropriate. Critical thinking and entrepreneurship were were actively discouraged. As a result, these skills are only slowly returning to Georgia, but in the meantime, the people who once relied on the government don't always know what to do.
Another facet to this are the IDP settlements. I am not an expert on these by any stretch of the imagination, but other Peace Corps volunteers live in and work with them. IDP settlements are communities of internally displaced people. In America this might happen due to a natural disaster, and people can return before too long. Here in Georgia it is due to the conflicts in Abkhazeti and South Ossetia. Thousands of people were forced to flee and cannot return home, even years later. The government set up communities for them in apartment buildings or in newly constructed settlements, but that didn't magically also create jobs or replace what was lost. Superficially things may look OK there, and the people certainly make due, but there's still trauma and stigma there.
To wrap things up, here's some more pictures of Gori (assuming the gallery function works correctly). Tomorrow I will be at my permanent site, but I will still come by to visit.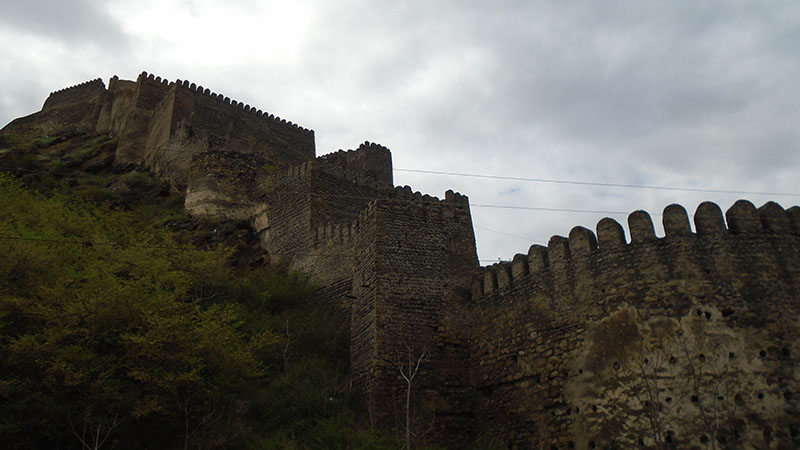 Update: I passed the LPI (Language Proficiency Interview), but likely only barely or it was a pity pass. One of the clusters also put together superlatives for everyone. Another volunteer was awarded "Most likely to wrestle a tiger with his bare hands". Clearly they haven't looked over my resume, but its good to see someone else stepping up. Instead, I was given "Most likely to start the next Renaissance in Georgia", which was keen. Guess I'd better get started on that 0.00000006% chance!